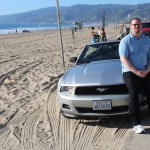 I've always loved the look of the American Muscle car, in particular the Ford Mustang. I've never really known much about cars, I never knew much about Mustangs other than I loved the look and sound of them.
When we holidayed in California and I saw the chance of renting one, I jumped at it. (I now know that was a V6, the smaller engine of the options)
I don't know for how long I've wanted one, I definitely remember telling people when I worked in Central London 'When I work in a store where I can drive to work, I'll buy a Mustang' Just over two years ago I started working down the road at Whetstone and a year and a half ago I was made permanent at that store, I would be driving to work regularly! Time to start saving?
Unfortunately at that time, we'd also recently found out we'd be kicked out of our rented accommodation within the next 14 months, so I'd need to save for stamp duty and legal fees first. Luckily, family would help with the deposit, the more expensive chunk of money.
With the flat bought and moved into last summer, I started saving once again. Helped by my motorbike accident payout, increased earnings from my Secondment in Brent Cross, Bonus Save looming and loans at an interest rate lower than I can remember, I thought it was finally time to start looking.
First things first though, I started doing my research on the Mustang. My options were the V6 or the V8. These both had redesigns and upgrades in 2010 to the interior, exterior and suspension amongst other things.
In 2011 they both had engine upgrades, the V6 went from 200bhp to 300bhp and the V8 went from 315bhp to 412bhp. I figured my ideal Mustang would be a 2011 V6. Plenty of power, but still reasonable fuel economy and cheaper than the V8.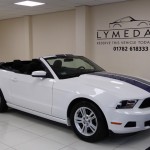 I thought I'd found a nice white convertible 2011 V6 but the day I was trying to arrange a test drive, it sold!
It certainly appeared that when I saw the car I wanted, I would need to be ready to 'pull the trigger' so I lined up my finances all ready to go, when someone on the Mustang Owners Club GB forum pointed out a black 2010 V8 in my price range.
Many people suggested the V8 was the one to go for, 'If you buy a V6, within a month you'll want to upgrade to the V8'. The seller 'poshwheels' in Mansfield had plenty of good feedback on the forum, so I dropped the deposit on Monday 2nd Feb to secure the car. Now all I needed was for it's UK registration to come through.
They hoped it would arrive before the weekend, but alas it did not. On my day off, Tuesday 10th of February, I was in the local B&Q at around 11:30am when I got the call to say it's documents had come in, it was ready to go!
My next problem was getting to Mansfield. Luckily my friend from work Tom wasn't working and agreed to take me to Mansfield to collect it. (It wasn't until we were nearly there he remembered he'd agreed to go to the football with someone! Oops!) Mind you, I didn't know but he was in an interview all morning, so wasn't replying to my text's. Car rentals nearby didn't have anything available and I was just thinking how annoying a train trip would be, when Tom finally got my messages and agreed to take me.
We got to the sellers 'mansion' in Mansfield around 5:30pm. The car looked amazing in the flesh! I'd already transferred the money earlier in the day, so we signed some documents and were on our way.
I wont lie, it was rather an intimidating car to drive a left hand drive, 315bhp rear wheel drive for the first time… in the wet and dark…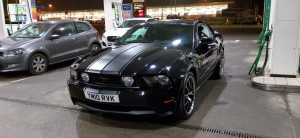 Only 10 minutes in and I'd powerslid across two lanes sideways, simply accelerating out of a 3rd gear change!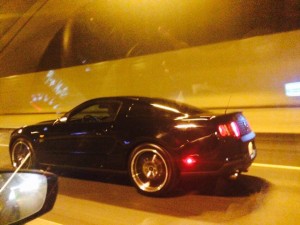 I took the drive home relatively easy. Having filled up as we left Mansfield, the 130 mile journey seemed to take around half the tank, which is not the sort of mileage I'm used to. Still, you don't drive a Mustang for it's fuel economy!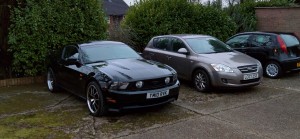 It's definitely a head turner. One chap actually did a pirouette turning to see me drive by! I do feel the pressure to keep it clean and in good shape. Which means, on to detailing! (Next blog post)