I hadn't really thought a lot about this track day.  I wasn't counting down the days, things where too busy I guess.  I had of course prepared.  The hotel 10 minutes from the track was booked, I'd moved my shift forward to finish work at 7pm, but that was about it.

On Sunday, with the help of Robert, I loaded the bike onto the trailer.  Monday morning I packed the car.  As I arrived home, I should have been ready to set off up to Nottingham…
The Journey
As I pulled onto the drive, I could see things weren't going to be so easy. The right wheel of the trailer had a totally flat tyre.

I tried pumping it back up, but my efforts were clearly having no effect at all. Not to worry, after 30 minutes ringing round, I'd found someone that would come to me and change both tyres.  It would cost me £140, but I'd be on my way by around 10pm.
Sure enough, with both tyres replaced for a couple of part worn, which looked a great deal healthier than what had been on the trailer, I was on my way just before 10pm.

All seemed good. I was making good time, until at 11:30pm as I was only 9 miles from the hotel I could tell something wasn't right with the trailer.
I immediately moved over to the hard should and to my surprise I found there was almost no tyre left on the left side of the trailer!

This time I've decided I'd best call on the AA.  Happily they said they'd help me out, and I was a priority as I was on a Motorway. Within 50 minutes, there was a recovery lorry with me to take my trailer somewhere safe.
I asked if he would take my trailer to the race track, explaining there is a chance it will be closed and we would then need to go to my hotel instead, but this was no problem, so off we went!
Luckily, there were some security guards at Donington. Whilst we couldn't leave the trailer at the pits, there was a small car park near the security hut and the nice guard said he'd keep an eye on it.  Sorted!
I was finally in my (rather warm, un-air conditioned) room by 1:30am.  Unfortunately, I struggled to relax with all the events of the evening so it was closer to 3am that I finally got to sleep.

I wasn't too happy to hear my alarm at 6:45am, but registration was to start at 7:30am and we wanted some breakfast first.
Donington Park
We actually arrived at the track just before 8am. There was a reasonable amount of space in the garages still, enough for us to get space together in garage 9.

Registration completed, we were due out on the track at 9:40am, so plenty of time to get my bike, get unloaded and into my leathers.
I drove Drew up to the trailer, we unloaded the bike and he road it back along the gravel track for me, to our garage.
Session 1
I have to be honest, session 1 didn't go to well for me.  I wasn't feeling comfortable on the bike, a few of the bends had caught me out, particularly Coppice, which appears out of no-where at the top of a hill.
People were passing me left and right, my fastest lap a 2:27.
Session 2
Session 2 went a little better.  I came out behind a few riders that, even to me, seemed to be going quite slow.  Looking afterwards, they were.  I followed them for the first lap which turned out to be a 2:42, then started moving passed some of the slower bikes in the second lap.
Going my own pace, I then clocked a couple of laps around 2:27 and 2:30 pace.  A red flag then cut this session short.
We found out the red flag was unfortunately Lee, who'd gone into Coppice with a little too much speed and couldn't keep it on the tarmac. He was okay though and the bike just needed it's bars straightening and he'd be back out for session 4.

Session 3
For session 3 we apparently were a bit eager and came out right at the front of the queue to get on track.  They then sent us out rather quickly, without checking wrist bands, leaving me to try and do my leathers sleeve up whilst taking the first couple of corners!
This meant Drew and Lee got a couple of hundred meters of separation from me, no real surprise, I'm used to being the slow one.
What did surprise me was that I kept them both in my sights through the session, lap 1 being a 2:20, lap 2 a 2:14.  By the third lap (2:15.6) I'd actually caught Drew back up for a brief while, then a red flag once again ended the session prematurely.
I took this opportunity to call the AA about my tyre.  They said someone would be with me within 2 hours, which works fine.  After the next session, we had a 1 hour 40 minute break for lunch.
Session 4
Pleased (and amazed) with my speed in the previous session, we aimed to go out in the fourth session with me following Drew round, giving him some good footage of his riding.
Our first full lap together we clocked a 2:13 and I was rather surprised I had to roll off a little early, so as to stay behind Drew.  Discussion later and perhaps I should have gone for a move and we could have had a tussle round the track.
As we came down the finishing straight, Lee came out up ahead of us.  With him on cold tyres, me and Drew passed him, but he stayed with us. Showing consistency, we clocked another 2:13 lap.
At this point, I got caught behind some traffic and lost sight of Drew.  I decided to quit while I was ahead and come in to the pits.  I wish I'd remembered I had Lee right behind me, I'd have let him pass and follow him instead!
Never mind, I was very pleased with my pace and would look forward to what the afternoon sessions.
Just as I pulled in, the AA man called, saying he was 5 minutes away.  We would then go with the wheel to get it replaced.  "Oh, do I have to go with you?"  The AA man said he could take it away, if I could give him cash to pay for the tyre.
For lunch I took the car to Donington services, grabbed some sandwiches from M&S and got some cash to pay the AA man.
With him paid, off he went with my wheel, I could carry on with my track day.
Session 5
The first lap would be a sighting lap, to get our eye back in.  I have to say, I felt a little tired and lethargic before going out, so this might be a little steadier than session 4.
Sure enough, lap times were back down at 2:24 for the first full lap, then another red flag right at the end of the second lap, cut this session short.
The AA man had left me a message, the trailer was done!  Off I went to pick it up.  Whilst there, the heavens opened!  For 10 minutes there was torrential rain.

Session 6
It had stopped raining for about 20 to 30 minutes.  The track still looked wet, but we decided we'd go out together, but go steady.
The first half of the lap was very slow, like a sighting lap.  Then the bikes spread out and we started to move passed a few of them.  As we came down the finishing straight I saw an opportunity to out brake Lee, so this time I went for it.
With added confidence I decided to now go after Drew.  Easier said than done though.  As I tried to push it through the bends I could feel the bike wobble under neath me as it fought for grip. Instead I waved Lee passed and latched on behind him again.
As we rounded the final left hander onto the finishing straight this time, I apparently tried to put a little too much power down, a little early.
The rear wheel span up, sliding out on me, before gripping again and kicking me up out of my seat briefly.  At this point I decided I should call it a day.  My crash last year at Brands came about after I got over confident.  I'd had a great day, improved a lot and didn't want to make the same mistake again.
All in all, I think this had been the best track day I've done yet.  The track itself is great, very fast in most places, fun chicane, with a few very technical corners to try and master.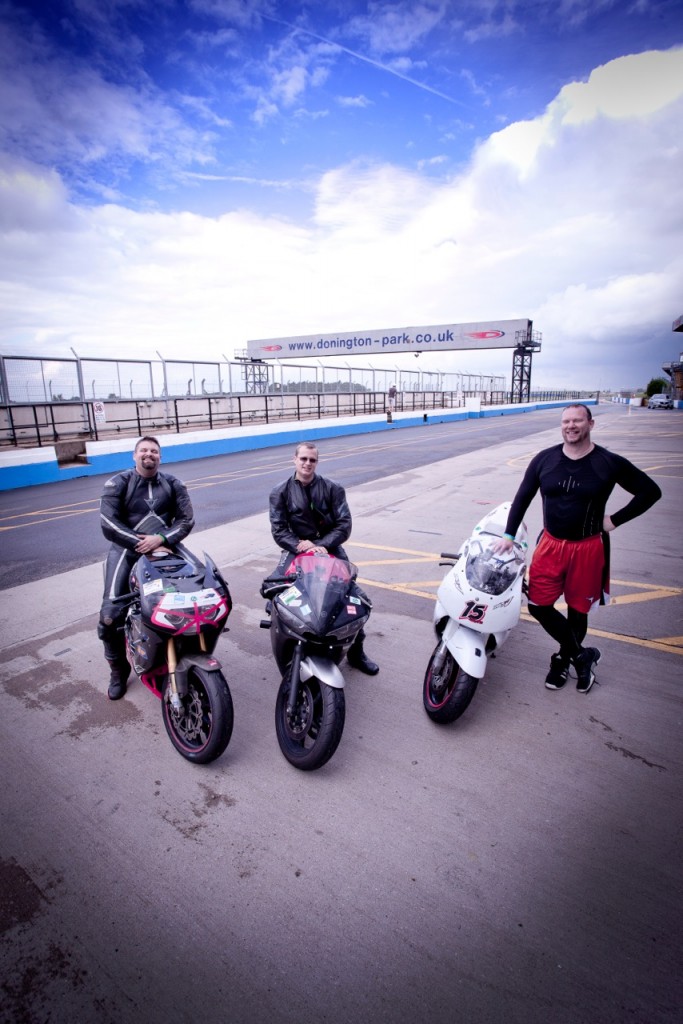 Thankfully the trip home was uneventful (aside Drew picking up a speeding ticket!).
See all the photo's here.