Following last years epic trip to California, we weren't really sure how we'd follow it in 2012.  Initially we'd thought about Florida, possibly even Canada but then I saw the Redskins would be playing the Cowboys on Thanksgiving Day in Cowboys Stadium! Much as I hate the Cowboys, they have arguably the best stadium in the world and I wasn't going to miss the Redskins playing there on Thanksgiving!

After a quick look on eBay, it wouldn't be hard to get tickets, so plans started to develop…
Friday 16th November
One thing we'd decided, instead of the usual 7am leaving flight time, we plumped for a 2pm departure.  This meant we didn't have to get up at silly O'clock to get to the airport.

The flight out was around 10 hours and a relatively simple affair.  Unfortunately, we were held on the runway for around 30 minutes and then passport control took another 90 minutes…
Due to circumstances at work, I was lucky enough to be able to get three straight weeks off from work, which allowed me to start moving my body clock round the Texas time (6 hours behind) which meant I was surprisingly awake as we finally got through customs and picked up our car.
This year we'd chosen to go with an SUV and, as usual, the lady at the desk offered us an upgrade for a cut price rate.

The 3.6L V6 Lincoln MKX certainly was a comfortable car with all mod cons, bluetooth, DAB radio, adjustable cruise control and amazing air conditioning.
We'd actually been fed quite well on the plane, so our first stop was a couple of Best Buys in Dallas.  As would be the theme for the week, no Samsung Chromebooks in stock, so we started our journey down to Waco.
It was around midnight when we finally got to the Americas Best Value Inn in Waco.  This would be the least 'comfortable' stay of our trip, but it was a relatively nice place, despite Robert finding a cockroach in the room…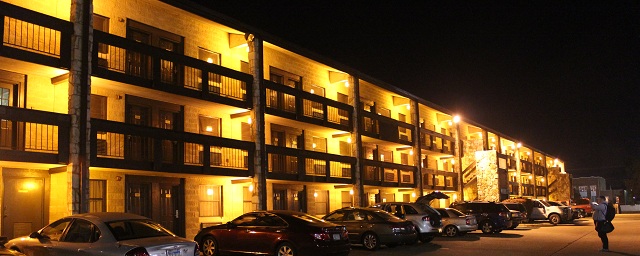 Having been up for almost 23 hours, I certainly slept very well!
Saturday 17th November
Breakfast options we're a little limited, but the waffle maker did the job for us!

It was an early start, on the road by 8am and on our way to Austin. A happy co-indecent was that the penultimate Formula 1 Grand Prix would take place at the brand new Circuit of the Americas in Austin, just 200 miles from Dallas, or in our case this morning 100 miles from Waco. We'd already bought Texans tickets for Sunday, but we were pleased to see we could buy tickets just for Qualifying the day before.
One thing I hadn't thought of here was parking.  We'd not arranged anything and the less than helpful lady at the circuit told us we could perhaps arrange something for tomorrow…
Still, we ventured on and realised the many fields around the venue were being used as car parks.  The actual car parks looked like they hadn't been built yet.  For $50 we left our car in a dusty field and started the treck to the circuit.

It was quite an odd experience at the circuit, in that the track itself looked amazing, the grandstand along the home straight was fantastic, but the rest of it was a pretty much a building site!

Due to a miscalculation of times, we'd missed the first  practise session of the day.  As we wondered round there were some classic cars racing, old F1 cars and such.

After getting split up looking round the track, we met back at our seats as Qualifying began. We certainly had a good view on turn 12, right at the end of the back straight, with a view over the next 3 or 4 bends too.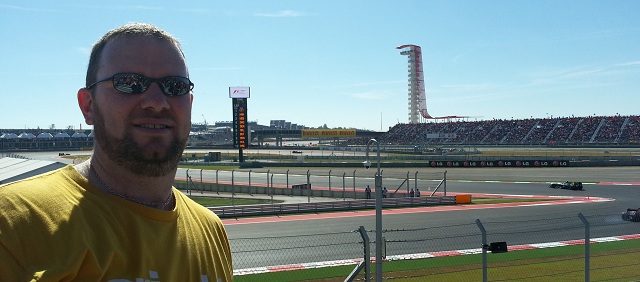 Another thing we hadn't really anticipated was the heat. The forecast said something in the region of 25 degrees, but it felt over 30!
Qualifying went well, Hamilton got pole position and we were making our way back to the car by around 2:30pm.

As it was relatively early, we decided to find a nearby mall and amongst other things, resolve our connectivity problems. (I'd topped up my T-Mobile SIM, only to find it would only allow a 2G connection in my Galaxy S3).
We did (eventually) find an AT&T store, which I'd been told would let my S3 use data at full speed. $65 later I had a SIM card with 1gig of data allowance, now it's time to eat!
Right next to the AT&T store we noticed a place called Chipotle. It looked good to us and gave us one of our best meals of the trip!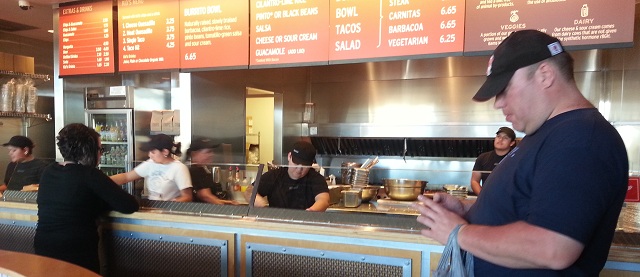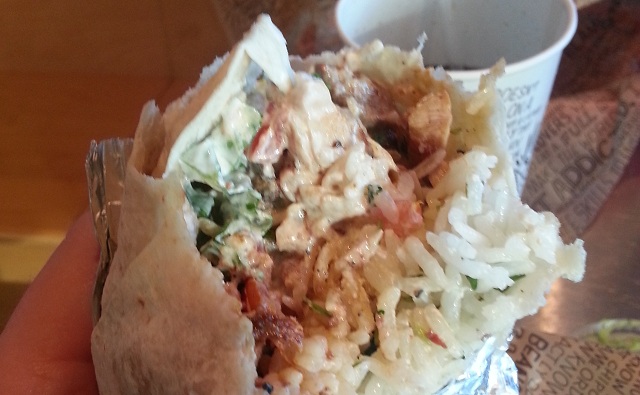 Next, we simply need to sort Robert with a connection.  For that, the plan was to use my loaded up T-Mobile SIM in a Mobile Hotspot, also giving the Nexus 7 a connection for when we're using it as our SatNav.
In the UK this would be simple.  Walmart couldn't sell us the MiFi, it wasn't registered on their system.  Luckily Best Buy said they'd price match from $120 to $80.  In the T-Mobile SIM goes…  but no… in the US it turns out you need the SIM set up to tether.

Literally an hour and a half later and we were good to go!  It did give me time to teach some of the customers and a few of the staff some things about Android!
With that sorted, we needed to get ourselves over to Houston, so around 7:30pm we were on our way.
The Magnolia certainly was an improvement from Friday nights accommodation.

Sunday 18th November
After a lovely breakfast, we had an hour or so spare before we needed to be on our way to the game, so we had a mosey around Houston.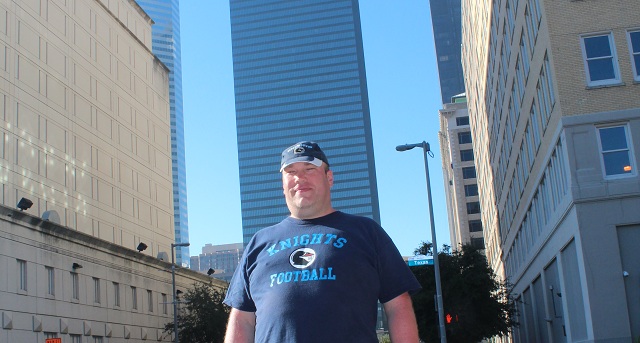 Another beautiful day in Texas with a clear blue sky made downtown Houston look great.  Some amazing looking buildings, oddly interspersed with empty vacant lots, some used as car parks, but most of them looking rather unloved with weeds and such growing within them.

By around 11am we hopped on the free tram/train to the stadium.

One thing's for sure, Texans don't do things by half when it comes to football, the stadium was very impressive, huge, clean and colourful.

We hadn't had chance to buy any Texans gear yet, so one of our first stops was at the shop where I got myself a JJ Watt shirt.

With the Texans being one of the best teams in the league this year, and the Jaguars being one of the worst, we really didn't expect much from this game, thinking we'd probably be on our way home at the end of the 3rd Quarter… boy were we wrong!
The Jags started well and led through the majority of the game.  Top rated, but so far underperforming, rookie receiver Justin Blackmon had the game of his short career, catching 7 for 236 yards and a score.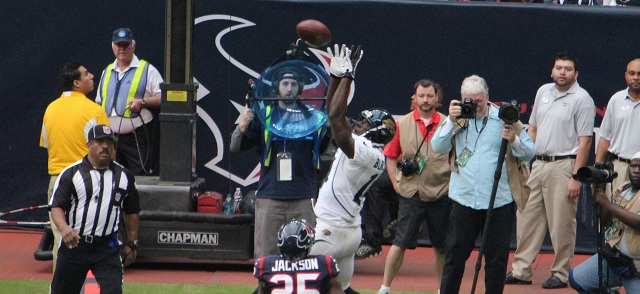 Luckily for the Texans, Matt Schaub was up to the challenge, passing for 527 yards, the second most in NFL history!

As Blackmon took a pass 81 yards for a score early in the 4th quarter to give the Jaguars a 34-20 lead, a few of the home fans started moving to the exits.  The Texans got two TD's in the last 7 minutes to push it into overtime.
In O/T, both teams got Field Goals on their first possessions, turning it into a sudden death scenario. With only 2 minutes left before the game would be declared a tie, Andre Johnson took a screen pass 48 yards for the winning Touchdown, capping his amazing 14 for 273 yards outing.

What an amazing game.  Really not what we expected.  Off we went, back to the tram to get ourselves home.
An evening meal at China Garden, a short walk from the hotel, and we were done for the day.
Monday 19th November
As I planned the trip, there weren't many days that didn't either have a sporting event, or involve travelling hundreds of miles, but Monday was one that was free, so I'd planned a trip to a gun range.
Texas is well known for it's Cowboys and it's liberal gun laws, so I'd contacted Tactical Firearms in advance and they'd confirmed I could simply roll up and fire some guns!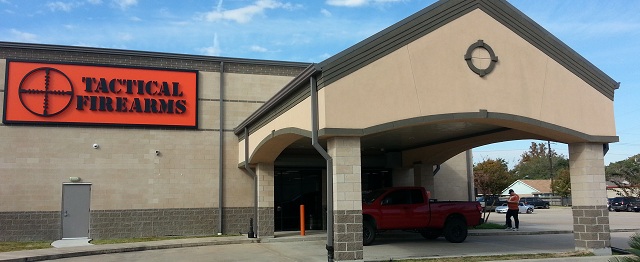 It was a little daunting and initially the guy wasn't much help "What do you think I should try?" got the response "It's your money, whatever you want"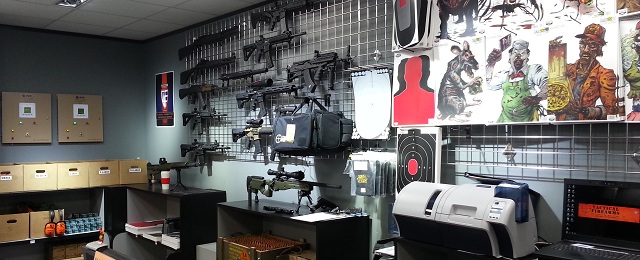 Finally we got going and after I'd been shown how they worked, I tried a couple of different 9mm pistols.  Once I was shooting, it didn't actually seem that hard. It wasn't long before I'd sent the target to the full length of the range and was hitting a few bulls-eyes from 25 yards.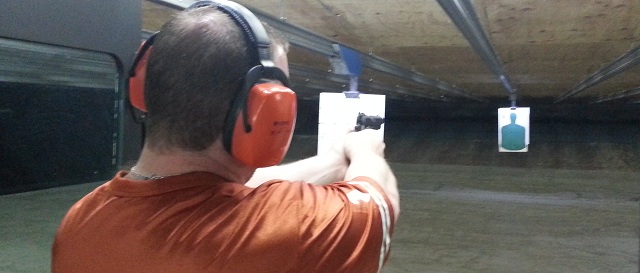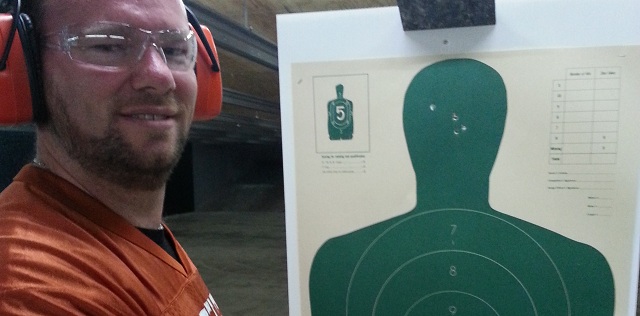 I then asked to move up to something bigger. Now a Super Elite 1911, there was a bit more recoil, but I was still shooting pretty accurately!
The range gradually started to fill up and soon my hour was done.  I'd shot through two sets of ammo (so 100 shots), three different pistols and four targets.

What a fantastic experience, I would recommend it, especially to those that sit playing Call of Duty on their computer all day long.  If you have the chance, try the real thing!
The afternoon was to be about shopping and a visit to the Williams Water Wall. Unfortunately, when we got to the wall, it was closed for cleaning.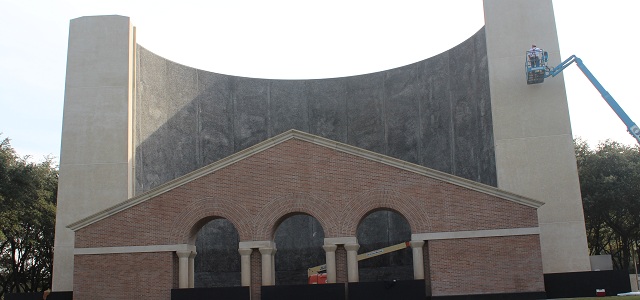 The last visit of the day would be to Houston Zoo. A little misunderstanding here too.  Google told me it would be open until 7pm, we got there at 4pm to find it would be closing in an hour!

Never mind, we'd just have to be quick then!  With some good route planning by Robert, we got round pretty much everything in the hour.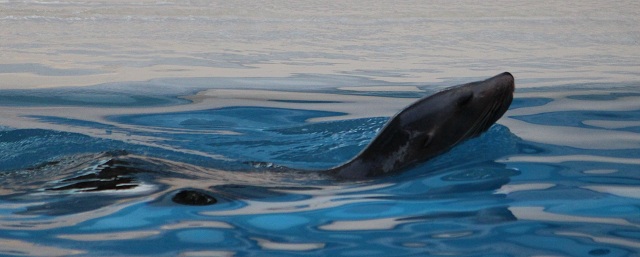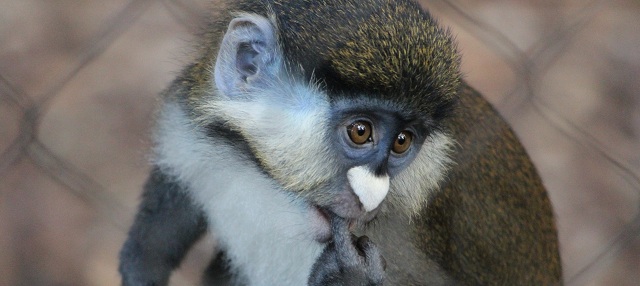 The zoo was very good, spacious, clean and with a good variety of animals.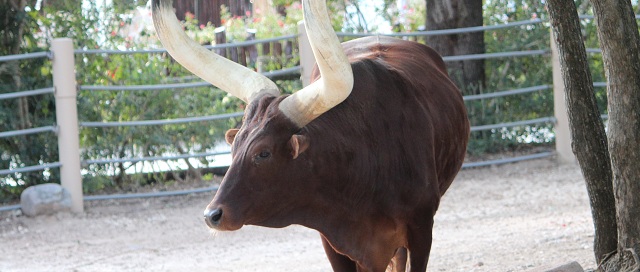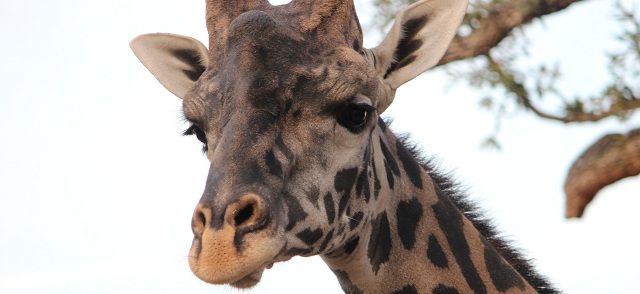 In the evening, we found a nice restaurant called McCormick & Schmick's. It was a bit of a classy joint, the meal cost $115 for the two of us, but certainly was very nice.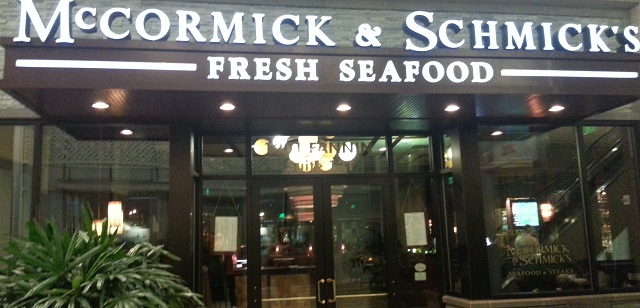 Tuesday 20th November
The day actually started off in the Magnolia's Gym.  A quick 30 minutes to burn off a little of the huge quantities of food that we'd already eaten.
It was also checkout day from Houston.  Whilst we had to be out of the hotel in the morning, we'd already made some plans around the area before we made our way up to Dallas, the first of which was Houston's Museum of Fine Arts.  Not normally my scene, but I figured I'd give it a go!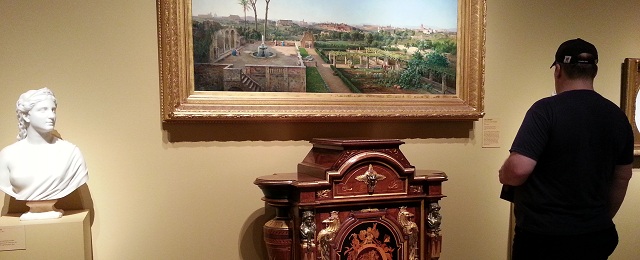 After a snack in their cafe, it was back to the car and off down to the Johnson Space Center.

I was a little surprised that it wasn't bigger, but it certainly was interesting.  The best part was perhaps being taken out to the actual control center's.

They have more than one, we sat in front of an empty one while they explained about who sits where and what they do.
We then went on to see some full sized models of crafts such as Saturn 5, which was huge!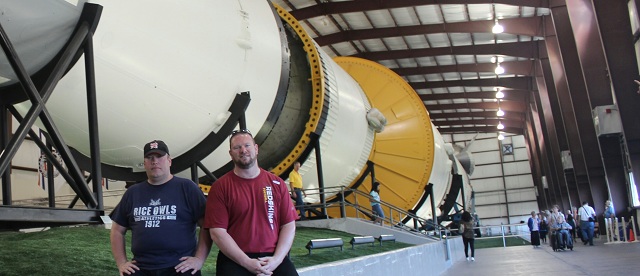 We finished here by around 4pm and after a quick stop off at a Best Buy (still no Chromebooks!) we were on our way to Dallas.
Once again we were staying at a Magnolia and once again it was very posh.


Free milk and cookies rounded the evening off.
Wednesday 21st November
We'd picked out 3 or 4 different shopping malls/retail parks to check out during Wednesday.  We needed a variety of teams gear to set ourselves up for the remainder of the trip.
I proudly wore my favourite Redskins T Shirt around Dallas, which certainly started a few conversations!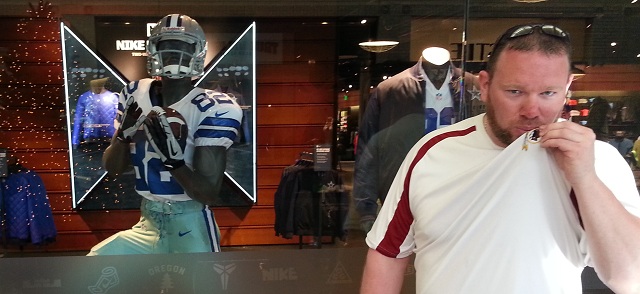 By late afternoon we were back at the hotel, kitted out with Redskins, Mavericks and Oklahoma gear.  We decided to have a wonder round the local area, including Wild Bills to get myself a genuine Stetson from Texas!

After a bite to eat at Hoffbrau Steaks, we headed back to the hotel to prepare to go to the Mavs Knicks game.
As the Mavs played at the American Airlines Center, only a mile and a half away, we were able to use Magnolia's 'limo' (well, van) service to drop us off and pick us up again.
As with most American Sporting venues, it was once again very impressive. One highlight, was almost bumping into Pam Oliver in the halls outside.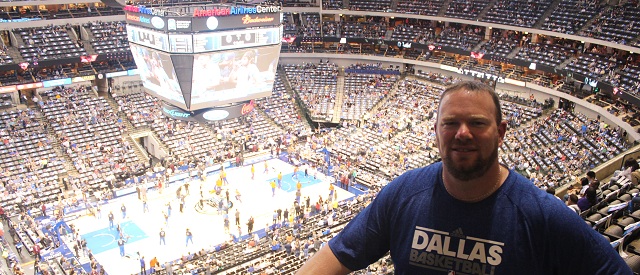 We didn't have the greatest of seats, although there was a good enough view of the court. With my zoom lens, I was still able to get some pretty good action shots.


Much like the hockey we watched in Washington many years ago, almost as entertaining as the game itself was what went on in between quarters or during timeouts.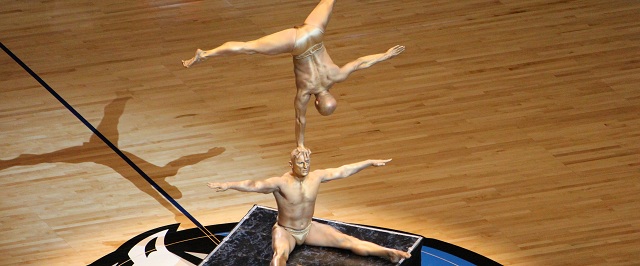 One kid had a chance to win a 60″ TV by shooting a half court shot…


…and he hit it!

The game itself turned into quite an interesting affair  The Knicks, who I believe were still undefeated at this early point in the season, led most of the way by 10 points or so, but as the game moved into the 4th quarter, the Mavs made a come back to take the game by 3 points.  Very exciting!
The only down side, we were back too late for free milk and cookies… so we had a quick couple of games of pool instead.

Thursday 22nd November – Thanksgiving Day
The big day was here!  The reason for the trip, my beloved Redskins had come to join me in Dallas to take on the Cowboys in their home stadium.
As usual, on Thanksgiving there would be three games played.  The first game would kick off 11am featuring the Texans against the Lions.  Our game would then kickoff around 2:15pm.  I'd checked about parking and general consensus was we could drive and pay without any trouble.
We got to watch half an hour or so of the first game, but then set off to Cowboys stadium.  It would turn out we would miss quite a match, the Texans winning in overtime following a decidedly dodgy call allowing a Texan Touchdown.
Anyway, back to our game.  We arrived at the stadium around 12pm and paid our $50 to park.  We were around 10 minutes walk from the stadium itself, so not far away, but I remember feeling like Luke Skywalker approaching the Death Star as we walked closer, the thing was just huge!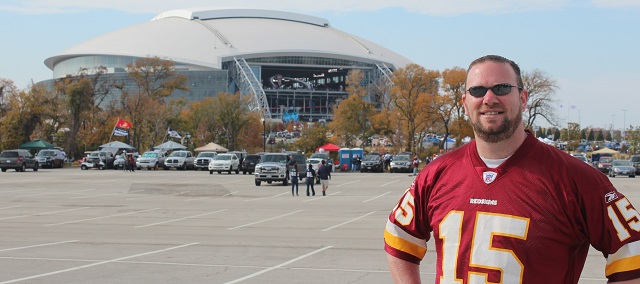 I'm not sure why, but all the Batman cars were on display. I guess it was a promo for the latest Batman movie.

There seemed to be level after level, shop after shop, the stadium was massive!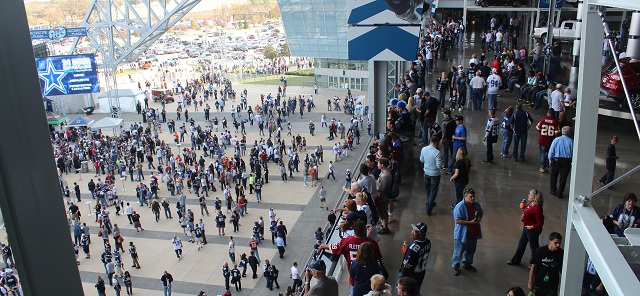 You can't really explain the size of this thing, but the fact that the Statue of Liberty, with its base, could fit inside the stadium with the roof closed, gives you some idea of it's size.
Unfortunately, finances just wouldn't stretch to one of the lower level seats.  They were going for $500+ each, so I'd plumped for the cheap seats!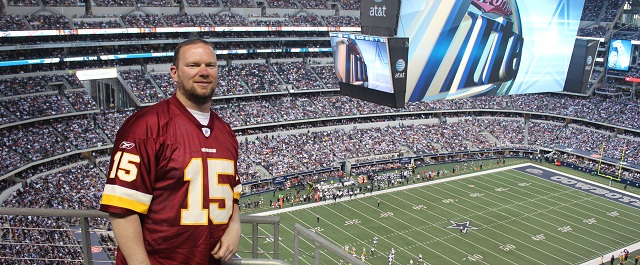 The game didn't start great for the Redskins, Griffin was put under pressure and the offence couldn't get moving.  At 3-0 down the Redskins exploded in the second quarter.  Griffin hit a 68 yard score to Aldrick Robinson to take the lead.

The Redskins went on to score three more touchdowns in the second quarter, putting me in a very good mood for half time!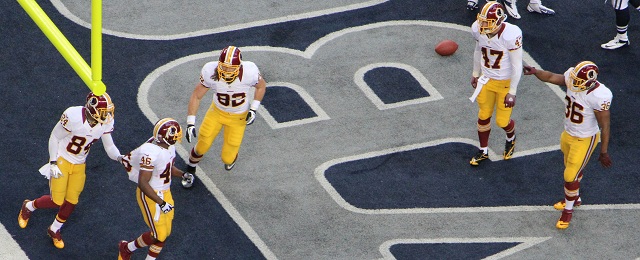 Unfortunately the Cowboys started a come back in the second half, even as some of the home fans had given up and gone home!
When it mattered though, the Redskins and Griffin dug deep and pulled out a big play.
The Skins moved into Field Goal range and snatched 3 points late in the 4th Quarter, which meant after Dallas managed a Field Goal with a minute left, they then needed to recover an onside kick.
Luckily for Washington, DeAngelo Hall recovered it and ran it back to the Dallas 1 yard line, where he downed himself.


With the game in the bag, we made our way back to the car and back to the hotel, to hopefully see most of the Patriots at the NY Jets.
We decided to head down to the hotel bar to have a drink and see the game there.  As it happened there was another Redskins fan (Clint) and his wife there, chatting with another English guy. Two other Americans arrived and someone from Glasgow!
We had quite an amusing evening, which was good as the Pats embarrassed the Jets 49-19, so it really wasn't worth watching.
Friday 23rd November – Black Friday
Friday was always going to be about shopping.  In the US, the day after Thanksgiving is called Black Friday and retailers have huge sales.  We'd already seen two or three tents outside of different Best Buys over the past three days for example.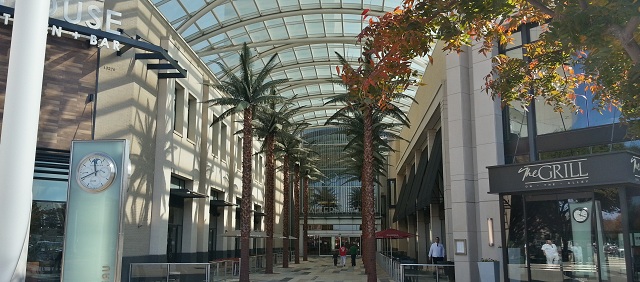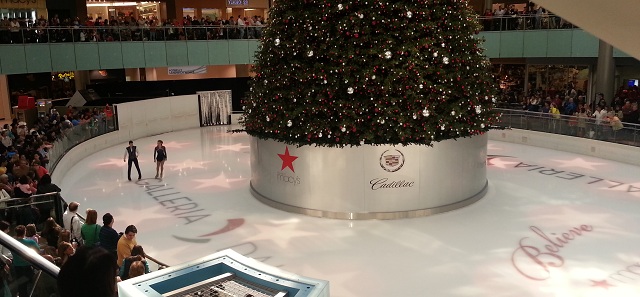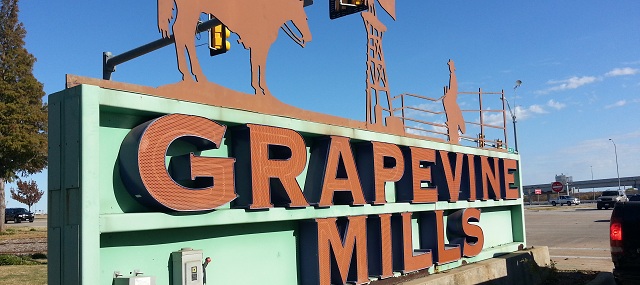 We went to a couple of different Outlet Malls, before having lunch at one of our old favourite restaurants, Cracker Barrel.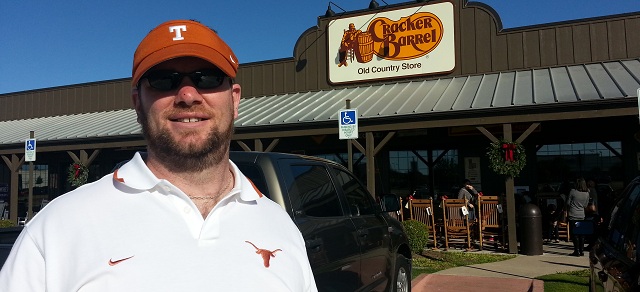 We didn't actually buy much this year, we'd not really planned so well and already bought most things we wanted.
With shopping done, we figured you can't come to Dallas without visiting Southfork Ranch, so we set off East.

We actually arrived at the Ranch at 4:20pm, which was the exact reported local time that Larry Hagman passed away in a Dallas hospital.
Of course, we didn't know this until we got home, which was a weird moment.
I have to be honest, I don't remember the show much.  I think I saw a fair bit of it in my youth, but I barely remember what I had for breakfast, so a TV show I haven't seen for over 20 years doesn't stand much chance!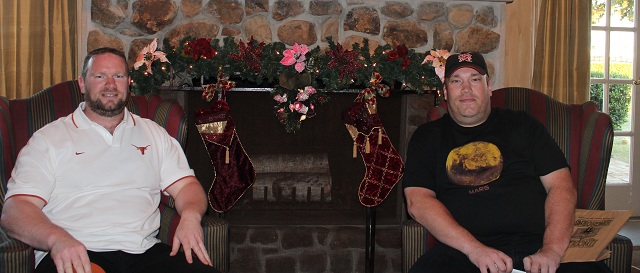 The interior of the house was not used in the show, so I don't really know why we looked round inside!  It had been set up as a shrine to the show though, each room was for a different character with a different theme.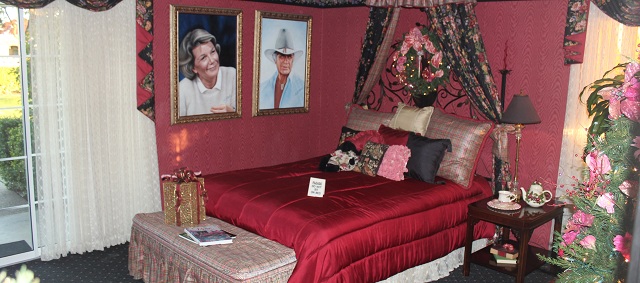 We had a lady explain to us how the ranch had changed owners two or three times to the current owners.  She also talked about the extensive use of mirrors outside to make the ranch (and pool) look bigger than it really was.


We were only there an hour or so, had a look round the gift shop and at some of the memorabilia and then decided we needed to head into the local town (Allen) for something to eat.
On our way, we passed a smallish stadium with it's flood lights on.  Friday being High School football night, we figured we'd eat then come back and see what was happening.
This stadium turned out to be one of the most amazing things we saw.  Allen Eagle Stadium had been built during the last 12 months and had cost the state $60 million! It seated 18,000 people and had a practise pitch underneath the main pitch!  This is a High School facility!

It turns out on this occasion the Allen Eagles weren't playing.  The stadium was being used for a playoff game between West Plano and South Garland.
We'd come in just as the 2nd quarter started.  Unfortunately, as we hadn't really planned to be out all day, we were still in just T Shirts and it was beginning to get cold.  We got a few odd looks from people.

I didn't follow the game too well, but I got a few good action shots.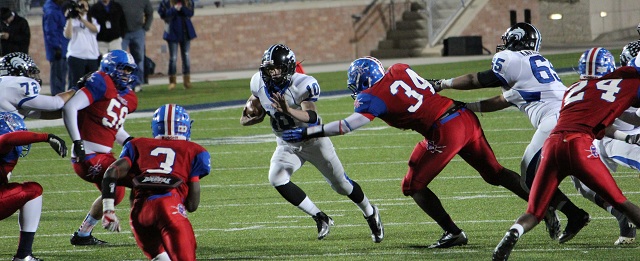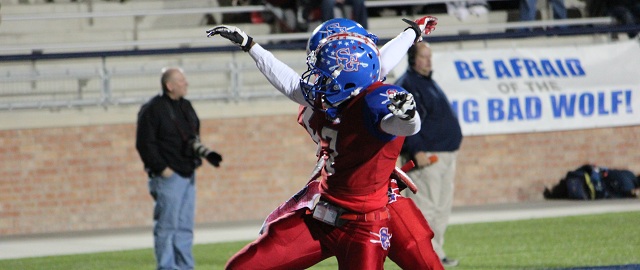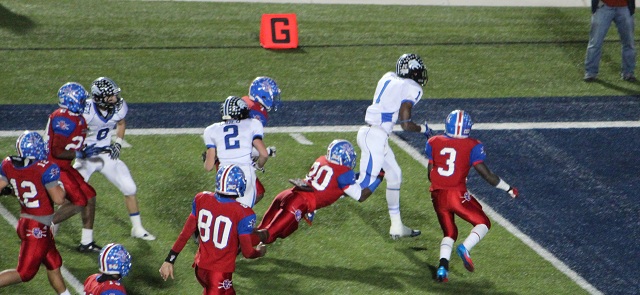 We left around 9:30pm as not only was it getting a little too cold, even with two T Shirts on, but also I'd decided to go back to Best Buy to purchase a Windows 8 Laptop!  Just when Robert thought he would spend more than me on Black Friday too…
One thing I liked about Dallas was, even though most things seemed to be 20 miles away, no matter which direction 20 miles only took 20 minutes to drive. So, 20 minutes later and we were back at the hotel, but once again too late for milk and cookies!
Saturday 24th November
Saturday would be the final live sporting event of the trip, the most expensive tickets of the holiday, Oklahoma hosted Oklahoma State. It would be a 190 mile drive up and a 190 mile drive back.  We had thought about staying a night and seeing some of the sites of Oklahoma, but as the game was at 2pm (as opposed to last years Stanford Cal game which was a 7pm kickoff) we decided to go up and back all in the Saturday.  This would give us the option of seeing some of Dallas on Sunday morning.
We were on our way by 9:30am, our SatNav said it would take 3½ hours to get to Norman, Oklahoma, but we'd realised we only had Oklahoma T Shirts, no jumpers, so we figured a bit closer, we'd find a mall and buy something to keep us warm, later into the evening.
We got within a couple of miles of the stadium and all of a sudden the traffic became very slow. It then seemed to be a matter of choosing one of the front lawns to park on.  Residents stood out front, holding signs with a price on, starting at $5 and going up to $20 the closer we got to the stadium.

We choose our spot, only a 5 minute walk from the stadium and made our way into the campus.

The University itself seemed beautiful.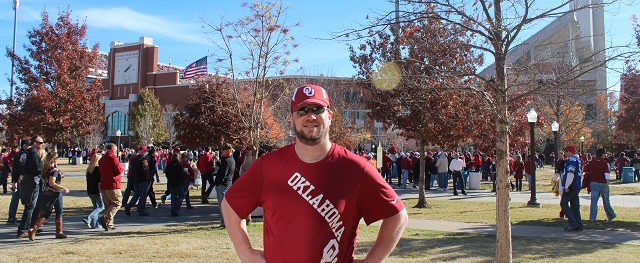 We'd only just made it in time, but with a queue to enter the stadium and even a queue to enter our seating block, we could hear the game had started already as we waited to get in.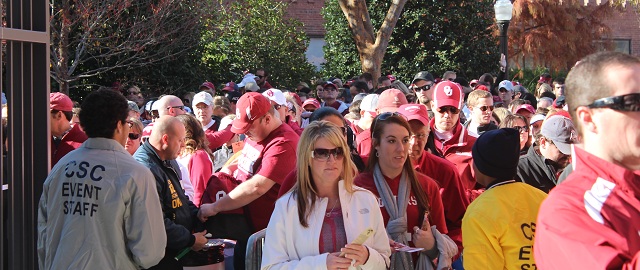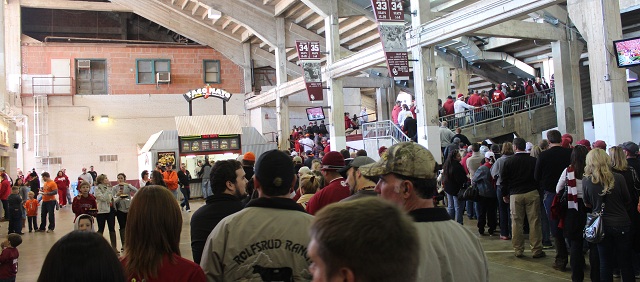 Unlike other stadiums we've been to, this one didn't have actual seating, they were more like a long bench, with numbers on the front indicating where your bit of bench was.
Despite these tickets being the most expensive of the trip, the seats were still high up.  As we approached our row, I didn't really see how we would fit, there was no gap and myself and Robert aren't exactly the smallest of people.
As we edged our way along the row and took our seats, it was apparent we would have to sit with our shoulders at an angle to be able to squeeze in.
Despite clearly being an older stadium than the others we'd visited, it was still very impressive.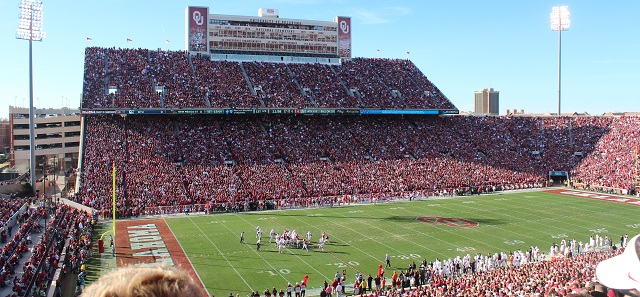 Luckily the people either side of us left at half time and we could relax a little.
Despite being quite high, I was able to get some great action photo's once again.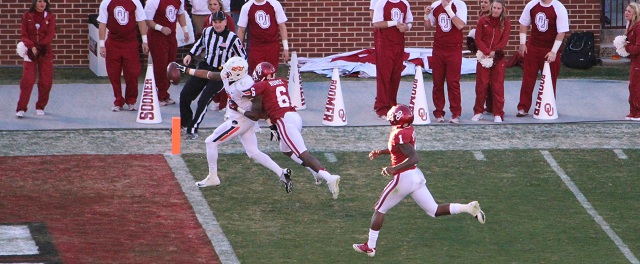 As with the Texans and Mavericks game, our team went behind to OSU through most of the game.  On literally the last play of regulation time, the backup QB went in from 3 yards out to tie the match at 45 each! The atmosphere was amazing!
Then, in overtime, Oklahoma Junior Brennan Clay #24 broke tackles to go in for the winning score.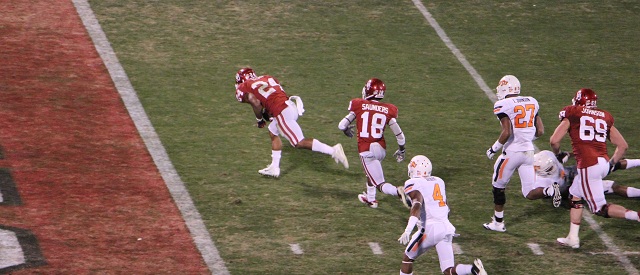 Another amazing game.  How lucky have we been with the games that we've seen!  Two overtime wins, and two others going down to the final minute.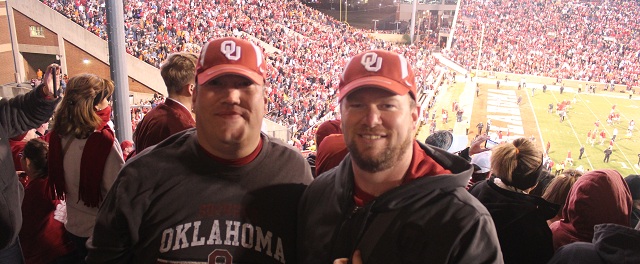 Unfortunately, we then took about 1½ hours to get clear of the Stadium.
A trouble free journey home meant we returned by around 11pm, but once again missed the free milk and cookies!
Sunday 25th November
With the JFK Assassination spot only a 5 minute walk from our Hotel, it would be silly not to go and have a look.
On our way we came to the Old Red Museum, which we had a look around first.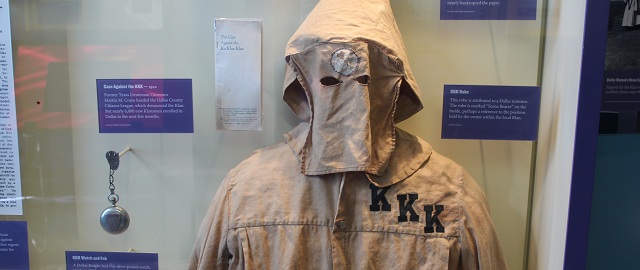 The museum had lots of great information about Dallas and how it was born and how it grew to be the town it is now.  It was all very interesting!
Following that, we made our way out onto Dealey Plaza.  There are three white crosses on the road, where each shot is thought to have hit the President back in November of 1963.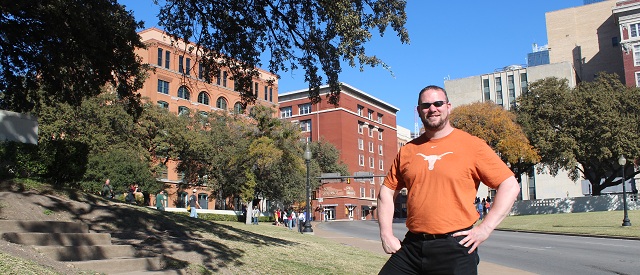 The orange building is the Texas Book Depository.  Lee Harvey Oswald fire the shots from the right most window on the sixth floor.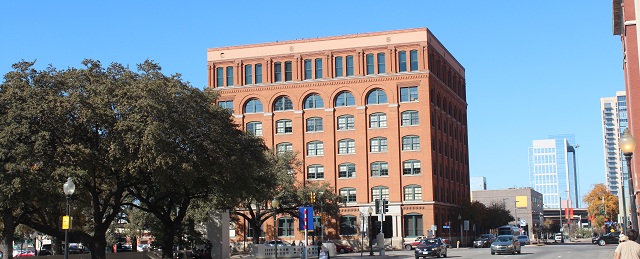 The building is now a museum to JFK and the assissination, which we took a look round.  It's all very fascinating.  There are many conspiracy theories, the main one being that Oswald had a partner on the grassy knoll just down the road.
People say Jack Ruby, a club owner, owed a lot of money to the mob and that is why he was used to shoot Oswald before the trial.  Having watched the National Geographic documentary on it, I do think it was only Oswald that fired shots from the Book Depository. (View as seen below)
After the museum, we stopped in at a CVS to buy some junk food and headed back to the hotel to watch the football for the rest of the day.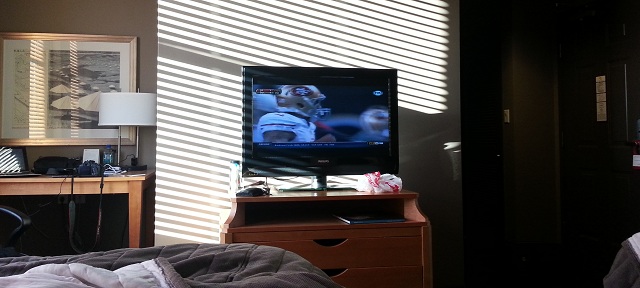 Monday 26th November
We had to be out of the hotel by 11am, but our flights weren't until 5pm, so we had a bit of time to kill.  Mind you, it was a tricky task to pack everything into our bags, vven though I'd come over with a half empty bag. We were both rather concerned about the 23kg limit for luggage.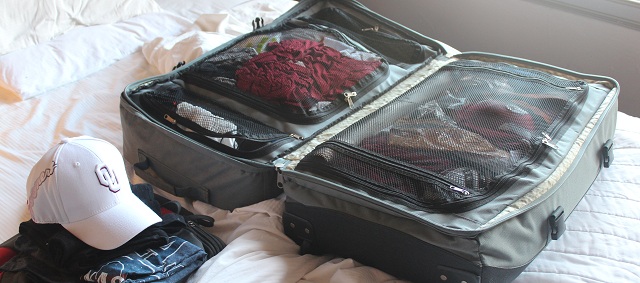 It turned out, Robert's luggage was only 15 kilo's, but mine was 23.2!  I moved my lens from mine to Roberts and everything was fine!
Anyway, to kill some time we made our way to the Dallas Aquarium.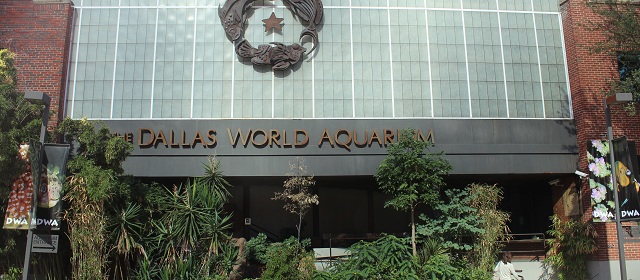 Although they are an Aquarium, they also had birds, flamingoes, cheetahs and more.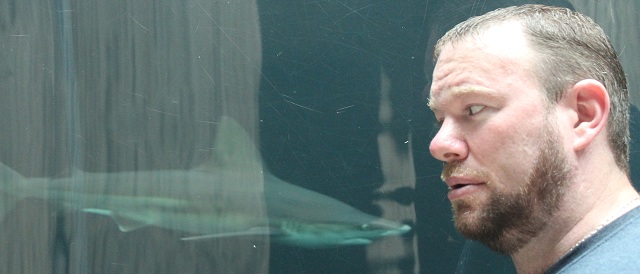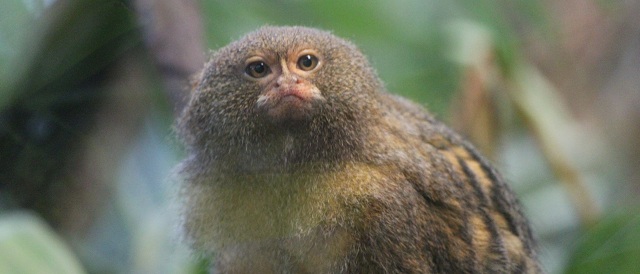 After the Aquarium, one last meal and we were on our way back to  the Airport, dropping off the car by 2pm.
The only thing I had to deal with then was the drunk Cowboys fan I was sat next to for over 8 hours on the flight home!
All in all, one amazing holiday!