I can't be denied that the iPad brought tablets very much into the spotlight.  They still have a huge share of the market (up over 90% at the moment I believe) but of course, the iPad's not for me.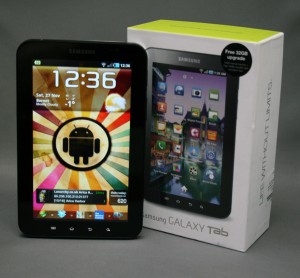 Last year I started the exploration for a decent Android tablet when I bought a Samsung Galaxy Tab, the first main stream Android tablet on the market, but at only 7 inches I found it too small.  It was very portable, sliding easily into the inside pocket of my coat, it took it's own SIM card meaning you didn't actually need a phone with it, but it was too close to a phone in size, meaning there wasn't enough to differentiate it and make it worth while.
After a month or so I moved on to a bigger, but cheaper tablet, the Advent Vega.  There had been a lot of hype around this device.  The price seemed fantastic for the specs of the device.  Generally, it was a great buy at £250, half the price of the Galaxy Tab, very fast, ran smooth but the deal breaker for me was the screen.  If you weren't at quite the right viewing angle, it looked terrible.  I think because of this, I didn't have any urge to use it.  It sat in a carry case in a corner of my room.  I found if I did take it from it's case, I probably hadn't used it for a week or two so the battery had died.  If I'd turned it off, I had to wait quite a while for it to boot up.  Then there was the issue when the screen turned off, it shut everything else down, so no notifications.  I took it a few times to Hemorrdroids meetings, but we had to use Starbucks free WiFi for a connection.
Then a month or two back I bought a Samsung Galaxy Tab 10.1 on eBay from a chap in Ireland, who himself had bought it from someone that attended Google I/O in March.  What a world of difference!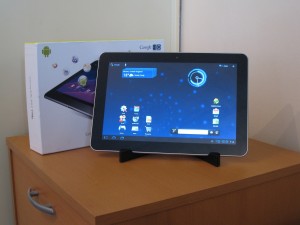 A smooth, sleek, lightweight design with the gorgeous Android Honeycomb running on  the fantastic Samsung screen and I find myself using it every day.  When I wake up in the morning, instead of booting up my PC, I check my e-mail on the Tab.  If I get back after a late night, no need to wait for my PC to load, I can check Twitter and Gmail on the Tab.  Gmail is even better on Honeycomb than it is in the browser on my PC.  With a 1280 wide resolution, browsing forums and websites is perfectly acceptable.  With the Tab 10.1 being so light, you can easily hold it for long periods with one hand, operating it with the other, including lying on your back in bed!
Not only does my PC get used less, but my Samsung Galaxy SII gets rested more at home.  Instead of my carrying that round the house, the Tab comes with me!  While in Barcelona last week, the Tab was used regularly either to stream UK radio or to watch TV shows and films I'd loaded up in advance.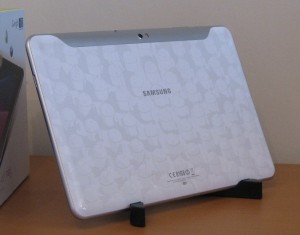 I do now understand why people have moaned about the lack of Honeycomb compatible apps.  On such a large res screen, regular apps can look sparse or tiny.  Those designed specifically for tablets, such as the Gmail app, Tweetdeck HD or Reddita are a HUGE improvement over their regular Android relatives.  There are still relatively few apps optimised for big screens, but as Android tablets grow in popularity, there will be more and more.
All in all, another great product from Samsung that I now wouldn't want to be without.