One of the many reasons I'm glad to be a 'Partner' (I work for the John Lewis Partnership) is the bonus that is given every year in March.  As all employees are partners, we get to share in the company profits each year.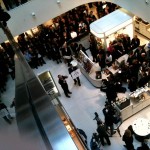 This year operating profits are up 20% despite the credit crunch which means 70,000 partners get to share £151m between them.  This is worked out as a percentage figure of each partners wage for the year.  Last year it had dropped to 13% but this year it rose back up to 15% (which I predicted some months ago!)  So, 15% of every partners earned wage of last year, overtime and all, is paid to them in March.
For me, for the forth year I've put another £3,000 into Bonus save.  This is an incentive that allows me to buy 'shares' at a fixed rate of £1 each, which after 5 years can be taken back out, tax free. I also get dividends on these each year, making it a great investment, returning around 60% over 5 years. With the bonus being 15%, I should have a fair bit to pay of some credit cards too!