This summer has been rather a pleasant one, lots of warm dry days with bright sunshine, just the type of days you like to ride your bike in.
Recently I've not ridden as much, a 2 mile commute with the effort of getting all the gear on, riding for 5 minutes to then take it all off again didn't appeal as much, but as I was working at Brent Cross an 8 mile commute was more worth while when the sun came out to play.
The 18th of July was one of these pleasant, sunny days.  I was working an early, so I took the bike in to work.  I was on my way back home at around 5pm when I came to a set of lights in Hendon.  A white BMW was straddled across the two lanes, so as the lights went green, I crossed the junction in a hurry, in case the BMW actually chose to turn right.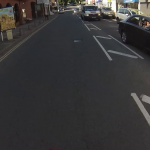 As I passed through the junction, someone from the oncoming traffic, without indicating, without checking for oncoming traffic even, turned across me.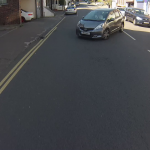 I squeezed the front brake as tight as I could, but instantly I knew I wouldn't be able to stop in time. I think it is true that things seem to go into slow motion.  It's more likely the brain kicks in to overdrive and starts processing much quicker.  I remember deciding it didn't look like he was going to stop, by the time I got to him he would be across the entire lane, my only option would be to get as much speed off as I could.
At the last second, he braked, I was able to twitch the bike to the left, glancing off his front bumper.  It was enough to move my centre of gravity out from beneath me, causing me to crash to the ground.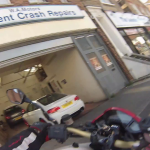 Oddly there wasn't really any pain.  As I sat there and all I could think was 'what an idiot'.
I stood the bike up and wheeled it to the pavement.  The driver, who had parked his car in his work car park, came back to see how I was.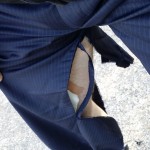 He took me inside his place of work and gave me some wipes and plasters for the cuts and grazes on my legs.  I hadn't been wearing bike clothing on my legs, my theory being, on my commutes I don't go speeds that required them.  To a degree I'd been correct, but at the same time I was probably a bit lucky I only had some scratches and grazes.
The car driver asked I didn't call anyone this evening, we were both shook up, he had things to do that evening, he'd call me in the morning.  I wondered if he was going to offer to pay off the books, but sure enough in the morning he called and asked me to contact my insurers, which I did.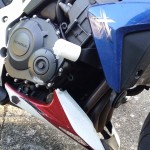 Although it was low speed, the damage to the bike was on a variety of different areas, rearset, front fairing, bar ends, mirrors, engine casing, belly pan, crash bungs. It would be quite a lot of work, so I was glad we were using insurers.
I reported it all and was asked if I would like a replacement bike.  I explained it wasn't essential, I can drive to work, but I would miss it for getting to the gym.  They explained to me it wouldn't cost anything as they would claim it through the 3rd party insurers, so I figured 'why not'.
I was supposed to be getting a replacement bike of similar standard to my own, unfortunately I didn't, I got an NC700, which really wasn't much fun to ride. This was quite a shame, as through the summer we had some fantastic weather, but I didn't much want to ride this replacement bike…
Then there was the matter of cost.  I noticed on signing for the bike there was a £100 a day charge.  The delivery guy told me not to worry, it would be claimed for and the insurer must be confident to send the bike out so quick.
I was then told by other bikers to be careful, often they say this, but then I could end up paying out! Even after two or three phone calls and two or three e-mails I was still a little concerned, especially as the days became weeks and the weeks became months.
Then came the personal injury claim.  I received a notice about a doctors appointment.  I called my insurer and told them I had no need to pursue a personal injury claim.  No problem, they would cancel the doctors appointment.
I was then quite surprised, after two and a half months, to get a phone call saying the 3rd party had offered £1,000 by way of personal injury compensation!  I wasn't going to say no!
Sure enough, the 3rd party had taken full responsibility, a cheque would be in the post and my bike would be on it's way back to me!
All in all, it could have been a lot worse for my first off on the road!