You may have noticed, most of my updates this year are bike related.  Well I'm moving it to the next level.  Ever since I was told I couldn't play American Football any more, I've been looking for a new hobby.  In looking for something less strenuous, I'd considered golf. Instead, I've landed on something perhaps even more dangerous than American Football, motorbike racing!
Well, it's not really racing.  They say your not actually allowed to race other folk, but track days are all about bombing round a race track as fast as you can.
It's also rather expensive.  The cost of repairing my road bike aside, I've spent the following so far –
The good news is, the bike and trailer were very good prices and I think I'll still be able to make a little profit on them if I decide to sell either in the next few years.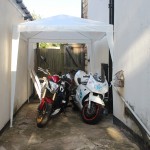 At the same time that I was gathering all these together, I had someone clear all the junk from the side of the house, so the bikes would have somewhere to live.  I don't think in the six years we've lived here has it ever looked so clean!
I got to use all my gear for the first time on Wednesday at the John Lewis Partnership day at Brands Hatch.  Initially I had some problems with the clutch and I missed the morning sessions, but all was fixed for lunch and I got to do the remaining four sessions, including the final session after some very light rain, with only around 6 other bikes on the track.
Through the day my times got faster and faster, starting around 1:17 and improving to around 1:09 in the last session.  I never quite got back to the speeds I was doing on my CB1000R, but then again, this time I stayed upright!
It looks like I may be going to Snetterton at the end of the month, so I can look to build on my speed there. By that time I should have the correct number 15 on the bike too!