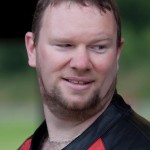 Over the past couple of months I'd attended two track days as a spectator.  A friend was at Snetterton (where I managed to almost loose my DSLR camera) and then in nicer weather at Rockingham Race Track.  Even though I wasn't going onto the track, I really enjoyed hanging out in the pits, taking photo's and generally soaking in the atmosphere.
So on Thursday last week I was due to attend my first track day, an evening session at Brands Hatch organised through LondonBikers.com.
As I'd been to a meeting during my week off recently, I was owed a half day from work, which fitted in nicely with my need to be at Brands Hatch for 3:30pm.  I finished work at 11:30am, got home, got sorted and made my way to Brands, picking up a work friend on the way.
 We were a little late in arriving, most of the rest of the guys were already there, but we still had plenty of time to get signed in and have our bike sound tested.  I was almost disappointed my bike only reached 97dB, the limit being 105dB.
After a short wait it was debriefing time.  They explain a little about how the evening will work, some safety points and then we are set free to head down to the pits.
Most track days have three groups, Novice, Intermediate and Fast/Advanced but for an evening session the latter two groups are merged.  This means the two groups simply take it in turns to go out, 20 minutes at a time.  After a 15 minute 'sighting' session, that means we get three 20 minute sessions.
In the sighting and first sessions it was quite clear I was one of the slower people on the track.  That's fine, this is just for me to get the hang of track days and riding on a track.
Come the second session my confidence was growing considerably.  I was cornering much faster and getting more lean.  I was leaning to the point I started to scratch the belly pan as it touched down to the track.
Add to this I could see my 'chicken strips' (unused edges of a tire) disappearing and I was feeling like I could now keep up with some of the other riders.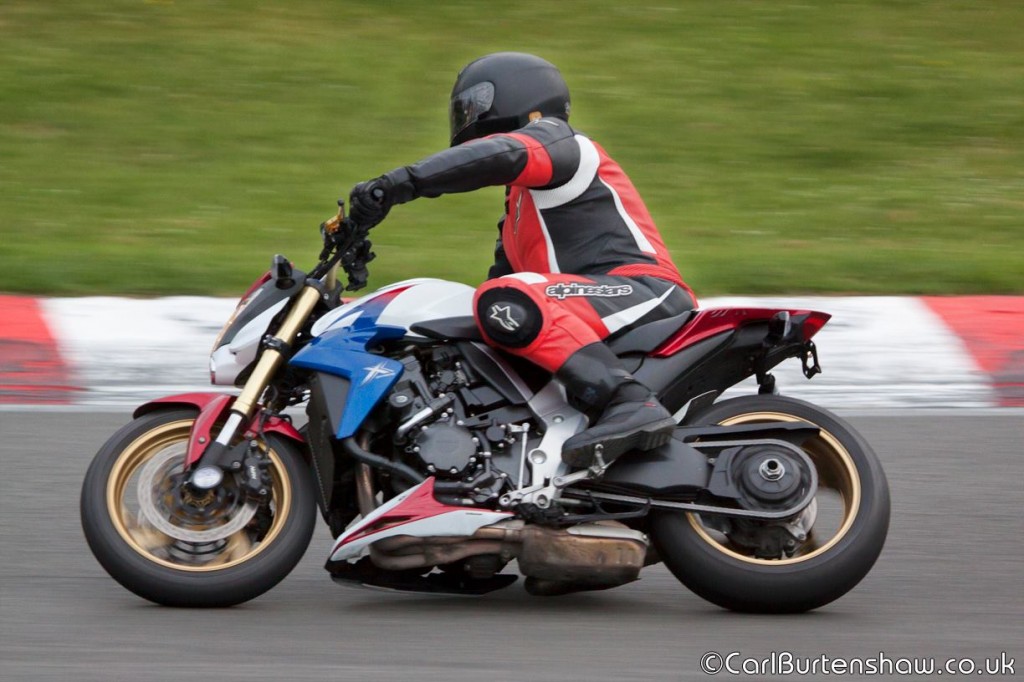 Heading out for the final session, I was managing to do just this, taking the corners much better, keeping up with some of the other quicker riders, until my problem on Graham Hill bend.
The times the belly pan had scratched had been on right handers.  Unfortunately, when it came to happen on the left hand bend, the belly pan has an exhaust right behind it, so no room to give.  The exhaust then takes the weight and the bike's front wheel lifts of the track, causing the front to simply give way. On the video, you can hear the high pitch scratching a split second before the bike goes down.
From the video, the bike itself seems to have an easy time of it, slide to a halt.  In the mean time, as I hit the track I began to spin at a rate you wouldn't think possible.  Lie at the top of a hill and ask someone to push you down and you wont come close to the rotation I'd achieved!
I remember wondering if I'd broke my foot as I could feel the pain in it, especially as it smashed against the track a couple of times.  I held my arms in against my chest to make sure nothing else was being smashed against the track, but my legs flailed a little.
I don't think I thought much else, apart from "Wow, I'm still moving quite fast, when will this stop then?"
Eventually I did stop and I could tell I was still on the track.  As I was likely still on the outside of the track and lying in the racing line, I thought it best to roll myself off the track.
As I could then tell I was on grass I decided to see how my foot was and was glade when I could stand on my feet, it hurt, but I would hobble, which I did, over to my bike, to sit and wait for the recovery team and medics.
Within a couple of minutes they arrived.  My first thoughts were to see how badly my bike was damaged.  As the guy stood it up, maybe it wasn't so bad.  The crash bung had done it's job and it looked like the rear set, clutch lever and rear fairing was the only real bad breakages.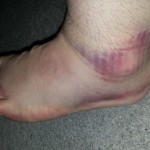 I decided to accept their invitation to the medical center, where I say sweating profusely for around 15 minutes as they poked about at my foot.  It didn't appear to be broken in any way, they gave me some painkillers and I was taken back round to the pits.
As I had sat there, one of my biggest concerns was how do I get my bike home now?  I was very relieved as I returned to my friends to be told "Mark has it in his van, he'll drop you home."
Strangely, I managed to remain positive about the whole thing. The evening had been an amazing experience, crash included.  This is what riding on a track is about.  If I'd used a track bike, learnt about how far I can lean on corners and then done this on my CB1oooR on the road and had this happen, things would very likely be much worse for me!
I've got some of the replacement parts on order.  As a minimum, replacing the clutch lever (I still have the originals I can put back on) and a new rear set (the bit that your feet sit on, the gear selection and brake) and I should be able to ride it again.
The most annoying bit is the petrol tank being dented.  Anyway, I'll get some quotes to get it back as new and I'll also get a track bike for my return to Brands on June 27th!