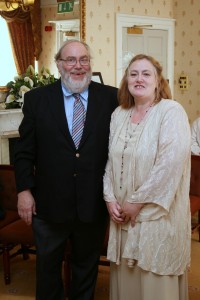 Well I missed the first one, but me and Robert made it up to Hull for Dad's second!
With it taking place on a Monday, to match Dad's birthday, both me and Robert would need to take time off from work and this is where the first drama occured.  Robert had been told no-one could have time off in October and there was talk he might resign!  Luckily, they came to their senses and agreed he could have Monday and Tuesday off.
The next question would be, how would we see the NFL on Sunday night with the wedding taking place over 300 miles away, in Hull, the following afternoon?  We decided we'd stay at home to see the football, book a Premier Inn for Sunday evening half way up and then finish the journey the following morning.
We booked in at Premier Inn at Leicester Forrest East and told them we'd be there around 2am.
As we set off immediately after the NFL football finished at around 12:15, we got to Leicester Forrest East services around 1:45am, but then found the hotel in the services was not the Premier Inn.  Google Navigation was rather confused on how to get us to the hotel, wanting to send us up a small road that was restricted to authorised vehicles only.  Much in need of a bed, we authorised ourselves and then found the hotel quite easily!
We checked in and found the late night game on Channel 5 to watch the first half of the Ravens taking the Jets apart.
The next issue was the heat.  Even though we were now at the beginning of October, the temperature was up around 24oC during the day time and our room didn't feel much lower.  This perhaps wouldn't be a problem, if there was air conditioning… but we weren't that lucky.  I was though and I won the toss for the double bed, so around 3:30pm, off to sleep we went.
Around 10am in the morning, we started on our way up the M1, stopping at the first services we found for a coffee and some breakfast.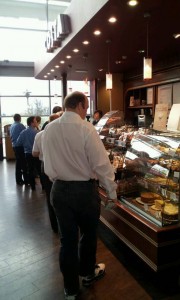 We found our way to Leven by around 1pm, in plenty of time for the ceremony at the local registry office.  It was a nice venue and a nice ceremony with around 11 people in attendance to see the happy couple tie the not.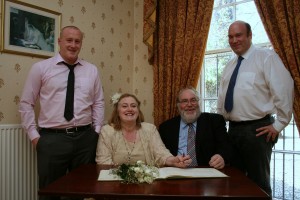 As the official photographer, I snapped away with my trusty Cannon 400D, the resulting photo's can be seen here.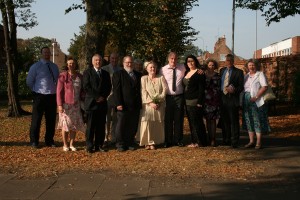 After the ceremony, we all headed back to Dad and Jayne's for something to eat, with guests.  It was a great day, meeting some new people and re-acquainting with some old friends.
At around 6:30pm we set off on our journey home.