I've been working for Waitrose and the John Lewis Partnership for over nine years now.  Over the past 3 or 4 years things seem to have gone better and better for me as I grow and develop as a manager.
The majority of my development has taken place over the past 9 months.  The start of this came last summer when I suggested I could fill in for Ellie, our DM Merchandise, while she was off for a knee operation.  The boss seemed to like this idea and for 8 weeks I was Acting DM, looking after Fresh Foods, Fruit and Veg and Dry Goods.  I fealt this went well and on Ellie's return, rather than stepping back down to SM Checkouts, I continued on as Acting DM Fresh Foods, helping take them through the Christmas period.
As we moved into the new year, a new management structure loomed and it was decided I would move back to SM, but not take a section.  I would continue with some Duty shifts and the rest of the time I would be planning the FBS implementation.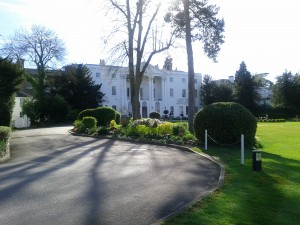 At the same time around April, I found out (at rather short notice) that I would be on this years SM to DM training scheme, starting with a DM Workshop held at Beaumont House in Windsor.  The workshop was a rather intense course, spread over 72 hours, where the 16 of us at the workshop would be monitored by our Branch Manager 'coaches' through a serious of scenarios and group work, with real actors being used as 'employees'.
It seemed to go very well for me, most of my feedback being positive and apparently that the final conclusion is that I'm ready for promotion!
Preperation for FBS went very well and it all went live on the 5th of June.  We'd heard some stores had a tough time in the first month or two, but thus far, it all seems pretty smooth.  I've taken up my position as Section Manager Operations and I'm tasked with getting it all set up with routines and procedures before I move on and start my Department Manage applications.
It certainly is quite a challenge.  This new section has many more responsibilities than the other sections, reducing, tickets, layouts, promotional changes, point of sale, answering the phones, the list goes on and on, and I have the fewest partners of all sections!  Still, I've very much enjoying it.
I wonder what the next 9 months will hold?