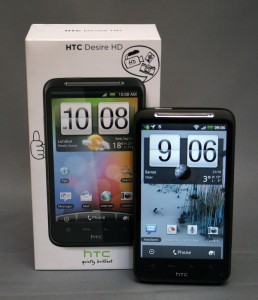 So I've had an Android device for around 18 months now.  Starting with a HTC Hero, moving on to the Nexus One, dabbling with the HTC Desire and Dell Streak before moving on to the Samsung Galaxy S and no on to the HTC Desire HD.  I've been very happy with each one and the Android OS is moving from strength to strength. In that time the OS was on 1.5 and it's moved to 1.6, briefly 2.0 then 2.1 and now FroYo 2.2, with Gingerbread 2.3 on the horizon.
Two weeks ago, my Orange contract finally came to and end.  I had already bought my Desire HD SIM free, but I was able to upgrade to another free DHD and lower my monthly payments!  This extra DHD was then sold covering all by £30 of my costs.  It was funny to think Orange thought I was still on a HTC Touch HD, an old Windows 6.1 device…
A year ago Android was very much the underdog operating system holding perhaps 2% of the market share, but now it has moved into an incredibly strong position marked at around 18%, slightly ahead of iOS at around 15%.
It struck me yesterday, I was due to have some friends over and every one of them was an Android user!  2 x Hero, 3 x Desire, a Galaxy S user and me on my HD.  This wouldn't have been the case 12 months ago.  Nowadays there is such a variety of great Android phones for all types of user at all different price points.  I sorted Mum with her HTC Wildfire which I think she's getting on well with and now Dad has left the iPhone to get his own Desire HD and of course my brother Robert has been on his HTC Desire for most of the year.  It used to surprise me when I met someone and they pulled out an Android device, not any more.
I've spent quite a bit of time on my website Hemorrdroids.net over the past 4 or 5 months. I review devices, apps and accessories and have developed quite a following.  Some companies will send me accessories to review, which is great as it allows me to play with gadgets.  At this point no-one has sent me any phones to review, but two different websites have contacted me about reviewing phones for them, so we'll see how that pans out!
Android now has over 100,000 apps in their Market, which is still a long way behind Apple who have 250,000 plus, but I think big companies are now realising they need to provide for Android users with there being so many across the world. With further Android progression on the horizon, it will certainly be interesting to see how big it becomes over the next year.