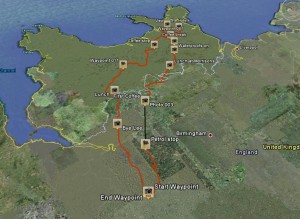 It was only 5 months ago since we last went to Snowdonia, but we liked it so much, we thought we'd go back!
This time myself, Lee, Mike and Steve set out from the Little Chef in Burford, following Steve's well planned route through Wales to our hotel in North Wales.  The weather was pretty good as we set out, but it was almost exactly as we passed into Wales that the clouds appeared and it wasn't long before the rain was falling.  A little drizzle at first, we didn't let it slow us, but it soon picked up, so we pulled over and donned our waterproofs.
As with the first trip I was using an app on my phone called Trip Journal to log our route.  This time I was using my Samsung Galaxy S, which has a bit of a better camera and I was better prepared with a spare battery and a cigarette charging point on my bike!  This meant I could leave GPS on the whole time to track more accurately where we rode.  (Apart from the one stage it turned itself off!)
Although I'm sure we would have all much preferred a nice sunny day, the weather certainly provided some dramatic looking scenery, clouds balancing atop mountains and such. It did slow us down somewhat, with greasy looking roads and plenty of tight turns, you can't be too safe.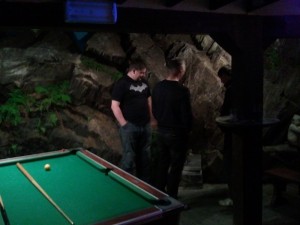 We made 5 or 6 stops on the way up, coffee, petrol and of course lunch meant we arrived at our hotel around 5pm.  A great meal, a few drinks (Bailey's shots for Mike!) and a 3 all tie on the pool table finished off the evening.  An interesting feature of the hotel was the mountain the was part of their pool room!  After much inspection we decided, yes, it really was a mountain!
In the morning, with the rain still pooring down, we decided we wouldn't hang about too long in Wales and make our way back to the much drier England.
As before, we still made plenty of stops on the way back, but opted for fast roads as we got down out of the mountains.
The final stats showed we'd done 375 miles from Little Chef and back again.  The highest we reached was 7,000 feet and our average speed was 39 miles per hour.
To take a look at the route, use this file with Google Earth and check all the photo's here.