I resisted for so long… but last week I caved and order myself a Nexus One, direct from Google.  I've been very happy with my HTC Hero for the past 7 or 8 months, but the lure of a super fast processor and a nice big AMOLED screen was too much for me.  On Wednesday I place the order, I got an e-mail around 11pm saying it was being shipped, it landed around 9pm on Thursday and went to collect it from DHL Friday morning.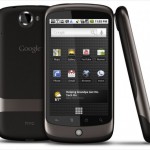 I've now had it for 6 days and I'm thoroughly loving it!  There are few things missing from the Hero, I'm in the camp that SenseUI is a good thing and of course that's not incorporated in the Nexus One.  The jazzy bits and peices like rolling the numbers when selecting a date or time are not there.  The contacts widget on the home screen, which I used to use quite a lot, is not there.  That's pretty much where the negatives finish though.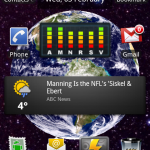 The screen looks fantastic, especially in darker areas.  Live wallpapers are fantastic, I have a globe spinning behind my icons at present.  I could have a nice sky with blades of grass waving back and forth, or maybe a pond with leaves floating about, that ripple when I tap the screen.  Awesome!
The Nexus One also comes with Voice recognition.  In theory I press a button and just tell the phone what I want to type.  It takes maybe 4 or 5 seconds to analyze and then turfs out the text.  I would say 40% of the time it's spot on, another 10% of the time it's close enough you can make a couple of changes and it's done.  This does mean, most of the time it might be quicker to just type it out, but still, it's pretty damn cool.
Possibly the thing that's impressed me, and others, the most so far is Google Goggles.  I started it up, took a snap of a picture we have hanging in our dining room at work and after 20 seconds of analysis it tells me the print is 'The Quay at Dinard'. That's pretty impressive!  Someone had a rather exotic drink I hadn't seen before.  I Goggled it, it gave me the drinks Wikipedia page, with lots of info on it!  Pretty amazing stuff.  In thoery I can take pictures of famous buildings and it will tell me information on them.
Add to this that already there have been some very useful upgrades/hacks.  Only last night Google released an update enabling multitouch.  Within a few hours it is hacked to allow full use of the Nexus One's memory, so on average I have 200meg spare, compared to maybe 70meg of the Hero.
I could probably waffle on forever about the little things like the News & Weather widget, the new amazing looking gallery that syncs automatically with my 90+ Picasa Online Albums, the way things smoothly swing in and out all running on the most up to date 1ghz Snapdragon processor… the whole thing is an amazing piece of technology.  With Apples market share already reportedly falling to Android driven devices, it'll be interesting to see what gets developed for the Nexus One of the coming months!